Enterprise Single Sign-On (SSO)
SSO enables customers on the Team plan to authenticate Cacher users through their existing SAML-based system.
Why SSO?
If your company already uses LDAP (Active Directory) for adding/removing users from internal systems, adding SAML-based SSO is a great way to manage Cacher users from a central location. Benefits of SSO:
No need for your employees to remember another password for Cacher.
Use group-based permissions to restrict access to Cacher.
Enforce enterprise security practices like strong passwords.
Automatically add new Cacher users to a pre-designated account and team(s).
Branded login page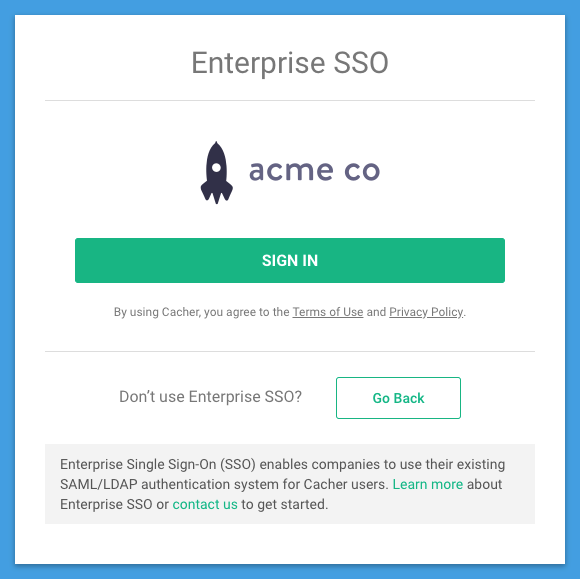 With Cacher SSO, we will generate a branded login page for your company. Send a link to this page to get your employees set up quickly.
Prerequisites
Your company is using a SAML-based authentication system. (e.g. Azure SAML, SimpleSAMLphp)
You currently use or are looking to purchase at least 25 seats for your organization account.
You are on one of the following plans:

Team Trial: The 14-day free trial that all new users receive
Team Monthly: Paid subscription billed monthly
Team Annual Paid subscription billed annually
Getting started
Enabling SSO for your company is a manual process. We'll need to get details from your IT administrator on endpoints and technical requirements. Please contact us to get started.